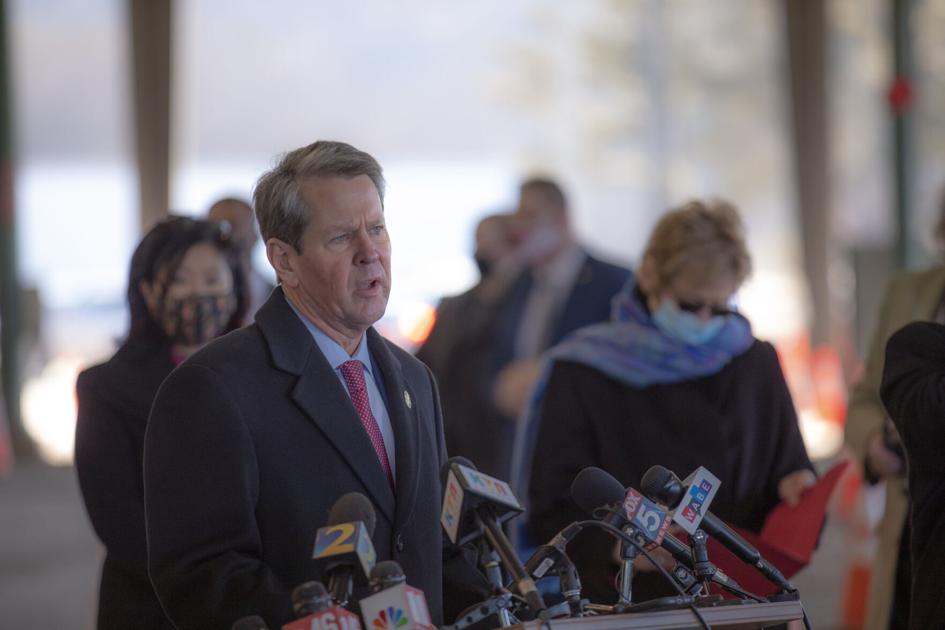 Following a press conference at Cobb's Jim Miller Park on Wednesday, Governor Brian Kemp sat down with Times-Journal Inc. staff to discuss state vaccination adoption, his legislative priorities, and the state of the GOP. This conversation has been edited for length and clarity.
Q: Some teachers have expressed fear of being back in the classroom. When are teachers vaccinated?
ON: Well I think Dr. (Kathleen) Toomey and I were very clear on this point (this morning). In fact, I've gotten into this, that context of where we are, why we're in such a place, and how we need more vaccines. … We have had thousands upon thousands of teachers in the classroom, as well as administrators, canteen staff, school security officers, clerks, and many other people working in schools across the state since August and September. I think we gave the schools the tools so that they can open safely. In fact, the new CDC director tweeted today that schools don't need vaccinations to work safely in this environment. But I was a local control governor, so I didn't try to put pressure on the schools. I tried to give them the tools they need. Personally, I think they should return in person.
I want the teachers to be vaccinated tomorrow. And I would do that if we had the cans. However, the fact is, and the data and science behind it, is that the people who are most susceptible to (COVID-19) are the ones who are vaccinated (as per CDC guidelines). … So we have 2 million people who belong to this subgroup of the extended 1A criteria. And I want to point out that Georgia expanded the criteria to include 65 year olds even before the CDC recommendation, as we had supplies in parts of the state that were not being used because some of these frontline workers were reluctant, especially in our long-term care facilities. …
But I hear them, I understand. … and as soon as we can get more offer we will absolutely open it. I mentioned that this morning, and we are going to honestly start vaccinating teachers and many other people who are essential workers, if you look at either one term or just one common sense definition: people who work as clerks in the grocery store – they've been on the front lines throughout the pandemic and worked in that environment – restaurant workers want it, you know, many, many other people. So we'll do that asap.
Q: There are several other vaccines in the pipeline, like AstraZeneca and Johnson & Johnson. What's your best guess as to when these may not only be federally approved but also available to Georgians?
ON: I think that would be a question for the White House and the federal coronavirus task force. We just don't know. I think I mentioned this morning that our supply chain, the 150,000+ cans we receive from the Biden administration every week, will be set for the next three weeks. I'm just confident every day that the Johnson & Johnson vaccine, and maybe others too, will get emergency clearance from (the Food and Drug Administration). I hope this comes sooner rather than later, but also I don't want to give people high hopes. Dr. Toomey and I have both tried to be very transparent but also honest with people and encourage them to continue to be patient and continue to follow instructions. With these variants in particular, it is very important that people wear their masks and practice social distancing. …
Q: There is some cash in a US $ 1.9 trillion COVID bill proposed by President Joe Biden for the vaccine system (distribution system). There's money for that in a $ 600 billion counteroffer from the Senate Republicans. I wonder if you are familiar with the details of both proposals and where you hope lawmakers ultimately land when it comes to the next round of COVID relief.
ON: Well, we've heard of both plans. We remain in touch with our friends in Congress who represent Georgia in either the United States Senate or the United States Congress. I mean where they end up, who knows, I think they are going to get something done. But money is not our problem right now. The earlier relief bills we received helped our state. What bothered me the most about the last package (in December) was the flexibility to carry this over to this calendar year that we are in right now. That gave us the opportunity to have the temporary facility in the World Congress Center that is operational and specifically supporting our subway hospitals, but really supporting our hospitals across the state. We have a lot more bandwidth in our plan when we have to do more. It doesn't look like we have to do this now, luckily it was the time to really worry about this for a couple of weeks, but our hospitals did a hell of a job doing this crisis with over 2,000 more COVID patients about that last high point, (that) post-vacation increase, if you will, then you had to deal with it in the summer. …
But you know, I'll keep looking at the package. But our problem right now is no funding. Our problem is that we need more vaccines and there is only one place we can get them and that is from the Biden administration and their coronavirus task force. And I'm not saying that derogatory in any way. I believe they are trying to get every dose to the states asap. From what I know it was a very fair trial. They treat all states equally in terms of population distribution eligible for the vaccine. It is not necessarily per capita how big the state is, it is more per capita how large the population is that meets these expanded A1 criteria and is 65 years old.
Q: You just introduced a bill to encourage more people to become teachers and to diversify the ranks of teachers. Can you tell us why
ON: When I got involved in a campaign … I made many commitments to educators in our state because I believe that our economic development, our job prospects, the health of our economy, and our future state depend on and will have a good workforce As a good workforce in today's world, people need to be trained, whether it's a craft, whether it's a degree or a post-secondary degree, depending on what the people want to do.
And we did listening sessions all over the state … and one of the things we heard was we need more teachers, our teacher pipeline wasn't where it was. I've also heard a lot of frustrations about how difficult it is to get certified as a teacher, especially for people who may be starting a second career. … So the pipeline bill is really aimed at getting more of these people like … our veterans into the teacher pipeline and giving them priority. It will also allow retired teachers to come back and be able to work 100% and get paid without having to do it all part time. This is going to be a kind of retirement bill for a teacher. So it has to be a two year process as all pension bills are in place.
Because of this legislation, we will drop it this year and hopefully pass that part next year. The rest of it, I think we will be done this year, that would inspire those retired teachers who may not be willing to quit their job to come back after a cooling off period and teach in the areas we have the demand there, those classes in need, whether it is critical math, reading, special education, and others (courses) to help our developmentally disabled students and others. These are really, really tough places to find teachers and this will help open up that field more and get more resources in the classroom which will be helpful for decades to come. … We have 40 co-signatories on one of those bills in the Senate. And as you know, there are only 56 members of the Senate. So it has broad support from both parties. We are very happy about it.
Q: Another topic that is being discussed in the legislature is sports betting. What have you heard from constituents on this topic and also from people who specialize in addiction?
ON: I wasn't a huge fan of gambling. I don't think having casino gambling, horse racing and other things is a good idea. There is a push for sports betting on which there are obviously judicial decisions. So we're watching the legislative process to see if this is a general bill or a constitutional amendment. When the General Assembly adopts a constitutional amendment, it does not have to be signed by the governor. It's veto-proof, if you will. And it is left to the voters to decide.
As you know, over the past few years we've had all kinds of gaming bills that have been talked about and all of them are focused on them and none of them have moved.
My main concern … is if it happened one way or another where that funding would go. And for me, maintaining the great HOPE scholarship program would be the place I would insist. I know early on, especially on the casino bills, that the pile was split, some went to health care, some of them … HOPE some of them went to other places to meet legal needs. if you want to get enough votes to pass. … I'll fight like a dog to protect the HOPE scholarship in Georgia.
Q: The Republican Party seems broken. One example is what happens in Congress when some GOP lawmakers want to have an impact on Liz Cheney for voting for impeachment, and others want sanctions against Marjorie Taylor Green for trading conspiracy theories. You are running for your second term next year. Where do you see yourself in this GOP spectrum?
ON: Well, that sounds like Washington DC, no matter which party is responsible. I definitely wouldn't be able to speak to what's going on in Washington, but I'm glad to talk about what's going on in Georgia. I can tell you that myself, Lt. Gov. (Geoff) Duncan, (House) Spokesperson (David) Ralston, Spokesperson Pro Tem (Pore Jan) Jones, Leader (Jon) Burns, Leader (Mike) Dugan, President Pro Tem (Pore Butch) Miller, you know who The rest of my colleagues down here in the General Assembly met with two longtime Democrats down here yesterday about things we're working on.
What disappointed me after the election was right where the focus was when we went through the runoff and now that we are even above the runoff. I think a lot of people have really lost sight of what a good night Republicans had on November 3rd, if you look at the General Assembly and the people running for state office. They were on the agenda that we set and I have worked with these people for the past two years. If you add all of the Republican Senate candidates in the state and all of the Democrats, the Republican Senate candidates get 53% of the vote. The State House candidates, if you do the same … these people did very well. A lot of people thought they were going to lose these races, they thought we were going to lose control of the house, the Democrats were going to be in control.
We had no losses in the (state) Senate, the majority stayed exactly the same. We lost three seats in the House, but we beat the minority leader. So we had a net loss of two that people thought we were going to have double digit losses in the house, and you now have a Democratic spokesman. And then you had (Republican) Jason Shaw, a civil service commission candidate who ran nationwide. … Jason had a Democrat and a Libertarian in his race and won without a runoff. So the general vote in Georgia is still very good for Republicans.
But we can't get distracted, we have to focus on the message that matters. So I focused on doing exactly what I told people to do … (from) supporting education in Georgia … to make sure we have safe neighborhoods, prosecute violent crimes, drug cartels, and street gangs and making sure we keep the needle moving for affordable, accessible health care in Georgia.
You know, I was always frustrated with Republicans when I talked about DC. Republicans in DC always wanted to overturn Obamacare, but they could never get a replacement plan through. And so people accuse Republicans of just being against everything and for nothing, and I wouldn't let that on my watch. We have issued over 50 health bills in the past two years. …
So we'll keep doing more of it. And yet I'm looking forward to running on my record. Look, I hear them, I hear people who are frustrated. I hear people who don't trust the voting system. We will absolutely deal with these common sense people. From my point of view it was always easy to choose, difficult to cheat. And let's have safe, accessible and fair elections in Georgia. And I think most Georgians want that no matter which side of the aisle you are on, and we will work on this this year to make sure people have confidence in the process. And I believe if we go through this process in 2022 and keep my files we will have a very successful night.
Q: I was in the audience when Sarah Palin came to Marietta to rally for Senator (Kelly) Loeffler. I think that was in December. And I couldn't believe the audience, I was listening to what they were saying. And the things they said about you – that you should be charged with high treason for not overturning the election. I couldn't believe that kind of rhetoric. How do you get these people back? Or is it even possible to win these people back?
ON: Oh definitely. I think it is possible to get them back. I mean, look, a lot of people have been misled. You have been lied to by people, you don't know the real truth. A lot of people asked me to do things that I just didn't have the authority to do. As I often told people, I put my hand on a Bible and swore to obey the laws and constitution of this state and the constitution of the United States. And that's exactly what I'm going to do. And that's exactly what I did, and I will continue to do so.
To me, the laws and the constitution are much bigger than any person or party, and that includes me. And I think at the end of the day I'll be rewarded for it. I think a lot of my conservative friends were involved in this frenzy and other things, but they just – sadly, not all of the facts. And that's exactly what I did after the elections. Just keep talking to angry people, explaining my position to them, but also reminding them of everything I've done. You know, I'm the guy who sued the Obama Justice Department, so we have a citizenship test when people register to vote in the state. When I was the secretary of state, I had our P.O.S.T.-certified investigators in Fulton County, Clayton County, and some of those other persistent problem areas watching this process. But I would not be able to speak to Secretary Raffensperger and his men that night. I'll let him answer that for himself.
But I've done a lot of these things. I fought Stacey Abrams, I literally fought many of these lawsuits for almost a decade when nobody really cared. … But I am now the governor, I am not the state secretary, and the constitution gives the state secretary these powers to manage the elections. …
But just to think about some of the things people asked me to do. They wanted me to investigate the election fraud. I'm not responsible for that. I offered the GBI to the secretary when he asked … I couldn't order a signature audit. And by the time you go back and look at the file, I already applied for signature verification in Georgia because I really thought it might give the secretary a chance to instill confidence in the postal voting process by just doing a pilot from A County, a county, you know, a couple of counties, a couple of counties, whatever he thought was a good thing, and just letting people see if it was fair or not … like you all know what the Results were.
Q: I quickly go back to problems in the Capitol. I was hoping you could tell what your three priorities are for this year. And while I speak of the budget, I know there were some dire predictions when the coronavirus first blew up last year. How is the state budget currently going? You said earlier that when it comes to COVID aid, money isn't really the problem?
ON: Our earnings were incredible. It's amazing what Georgia has done because we have fought for life and livelihood and methodically reopened our economy and kept doing so during the peaks and valleys created by the pandemic. And while other states are laying off teachers and law enforcement agencies and other people are re-funding education, we have no budget cuts this year, no vacation days unless it comes to efficiency issues that one of the agency's heads and I don't really want to do much heard of it. So the budget is one. There is also a bond package that continues to fund projects ready to be shoveled to keep the people of Georgia working. … We paid back a large part of the (education) funding formula that was cut back during the recession last year. We continue to protect life at all stages in Georgia and are working on adoption reform. Our great first lady is doing more than anyone in the country to combat human trafficking. We received a few more human trafficking bills this year to keep helping it and putting an end to evil modern slavery here in Georgia. So really, it's more of the same of us.